Video Surveillance and Graphics Software
This is the home of ContaCam and FreeVimager. ContaCam is a Video Surveillance software and Live Webcam solution for Windows. FreeVimager is an Image Viewer and Editor for Windows. The main focus has always been stability and reliability, the offered software must work well and do what's said!
The programs are highly optimized and developed for Windows operating systems, there are no plans to port them to other systems or to mobile phones, but they work with Wine on Linux and with Wine on Mac.
The software are Donationware, it is requested to
$10 USD per installation to cover the costs. The source code is written by Oliver Pfister and published under the terms of the GNU GENERAL PUBLIC LICENSE.
ContaCam 9.9.22
Software can be downloaded from here
CCTV security surveillance with motion detection recording
Supported are Webcams, WDM, DV devices and Network / IP cameras (streaming with RTSP / H.264 / H.265 or MJPEG)
Motion detection events presented as animated thumbnails in web browser, check the street demo and the home demo
Daily summary video creation option
Integrated web server with password protection
FreeVimager 9.9.22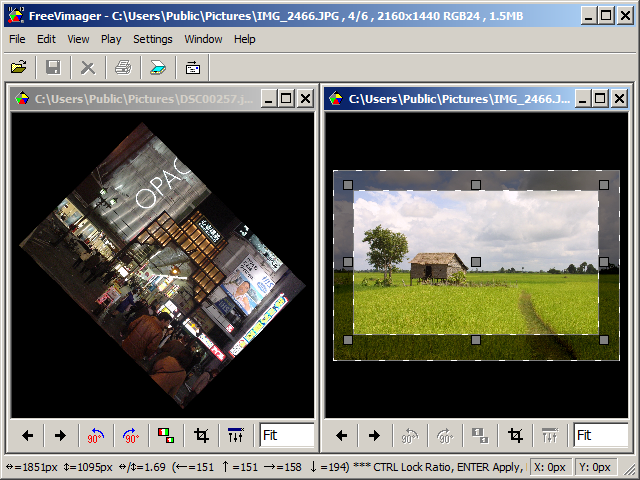 Software can be downloaded from here
View and Edit graphics file of type: jpeg, bmp, gif (animated), tiff (multi-page), png (transparency), pcx and emf
View graphics file of type: heic, webp, avif and jxr
Save As Pdf command
Jpeg lossless rotate and crop
EXIF, IPTC and XMP support
Batch Processing